Lanchbury Anonymous FTP
More an internal note than worldwide publishing.  If you have been asked to ftp something by a Lanchbury member, below explains how to upload these files.
Windows Explorer
Microsoft seem to have realized they had broken Windows Explorer FTP protocol and have fixed it in an update on all versions of Windows.  This means you can try clicking on, or typing in ftp.lanchbury.id.au into a My Computer windows address bar.

Now it's just a case to click and drag the files onto the incoming folder.  You can't drop folders into this folder it fails, so only keep it to files.  If you want to keep a directory structure please zip your upload first.

Upon opening the incoming folder it will be empty whether you've upload files or not.
If the above doesn't work for your version of Windows you can try the below…
FileZilla
Firstly you need to download FileZilla.  This is available from http://filezilla-project.org/download.php click the FileZilla_#.#.#.#_win32-setup.exe (recommended) link.
Install it, all the defaults will be fine so just keep clicking next, ok & finish until it's complete.
Open FileZilla, if it hasn't already. Fill in the host, username, and password as below.  The password is your email address

Please Note: Files need to be dragged into the incoming folder.  You can't make folders within this directory so just place the files there.  If you want to keep the directory structure please zip your upload first.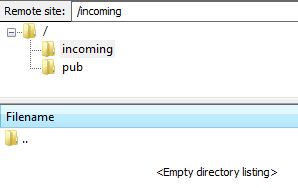 Also Note: Lastly it is not possible to see uploaded files when complete just keep an eye on the successfully transfers tab (as pictured below).

If your having troubles, contact the person who is asking you to upload these files.